25: Fleur Simon
What is your background? So I grew up in London. I attended two foundation courses; one at Central Saint Martins UAL, and one on scholarship to Paris College of Art. I then completed my Fine Art BA at City & Guilds of London Art School, where I worked in ceramics and painting.
Who is your inspiration? Others artists inspire my work. For example, Ryan Sullivan's material use and Julian Stair's concepts. It's great to take your favourite elements from each and combine them. I liked Wolfgang Tillman's Freischwimmer series so this inspired me to play with depth and inky imagery.
Can you provide an example of an organisation that inspires you? Marguerite is a great organisation that runs networking events for women in the arts. Seeing what they're up to gives me motivation.
Why did you pick the sizes that you have chosen as a format? All the scales are relatively small. I did this as I find the pigment is very strong in these works so I wouldn't want them to be too overwhelming.
One other rather important question; Why do you want to have your show at Studio 73? I think it's a fantastic space, in a bustling and vibrant location. I have enjoyed the work that has previously been shown, and would be so happy to contribute to it!
24: Scott Bauer
It's great fun to see the product of a particular period of creativity in one space; I am delighted to show some of my most recent paintings at Studio 73. When I am working in the studio it is sometimes hard to fully understand what I am attempting to achieve with a particular group of paintings. Since I work on a series of canvases in tandem, meaning and relationships emerge slowly.
In my latest paintings I am exploring the relationship between two aspects of my work that have fascinated me for years: linear formalism and naturalism. Namely, how can I reconcile an illusory space that is both a formal system and an evocation of nature? Sometimes the relationship is expressed through a particular chromatic palette in a formal rhythm of lines. Sometimes the relationship is expressed through the literal fading away of a formal system into the surface of the canvas or a highly saturated colour ground. Creating an illusory space where these twin aspects of my work can coexist is what excites me as an artist.
22: Lisa Pettibone
What is your background? I'm originally from California with a background in graphic design and explored art in my time off, initially taking glass making courses. Many years ago I moved to London (to work in design) and eventually got a BA in 3D Design in glass from UCA Farnham in Surrey and began making abstract sculpture (I now live in Surrey). Recently I graduated from Central Saint Martins from the MA Art and Science course where I investigated gravity and how it emerges in art.
How and why did you gravitate toward printmaking? Its graphic qualities are enticing and as a former designer I'm attracted to its crispness and ability to hold colour. At CSM I reconnected with the medium and found it a great vehicle for my photos and desire to explore imagery juxtaposed with shape and colour. Also I was compelled to break out of the 2D space print occupies by pushing it into a 3D space through cutting and bending. This is a way of letting light into the print space. My background as a sculptor comes through here.
Who is your inspiration? Bridget Riley, Rana Begum, Olafor Eliason, Katie Paterson
Can you provide an example of an artist or organisation that inspires you? Lumen Studios London, an artist's collective working with themes of astronomy and light. I'm exhibiting in their Crypt space at St John's Church on Bethnal Green in September. They have brought me into contact with some very special artist and provided me with wonderful opportunities.
Why did you pick the sizes that you have chosen as a format? I like working big so don't often produce small screen print work. When I'm testing an idea, I work smaller to start with then build up. Sometimes there are limitations to size – I found the blend on Undercurrent quite tricky at that size.
What would you really like with your art? I'd like to do an important public 3D commission this year with accompanying screen prints.
One other rather important question; Why do you want to have your show at Studio 73? It was a wonderful opportunity to pull together a body of work from the last two years and focus on exposure for my works on paper such as screen printing.
21: Bayne Blackwaterbluez
What is your background? Born in the south of the UK. Independently studying, learning and creating artwork since early childhood. Inspired from an early age by graffiti writers and American vintage illustrators I began to practice in many different mediums. With countless markers at my disposal I developed a keen interest for black and white illustration incorporating attention to detail and labour intensive techniques. With a keen interest for history, art and music from times gone by my artwork reflects my own take on these subjects.
Who is your inspiration? Chaz Bojorquez, Charles Dana Gibson, Waylon Jennings, Maynard Dixon, Jeremy Fish. Just to name a few, however the list goes on.
Why do you pick the sizes that you work in? No other reason than the fact that each piece and size, worked best for the concept.
What would you really like with your art? I'm still figuring that one out.
Why do you want to have your show at Studio 73? Being a fan of the artists Studio 73 stock/have shown in the past i would be proud to be in such great company.

20: Oli Fowler
What is your background? At 19 I studied fashion and textiles at St Martins only to drop out a year later. I returned to uni at the age of 30 afters years of different jobs. I guess you could say I'm a late starter. I always knew I wanted to be creative but didn't know how to make the cross over. It was only until I just dived in and accepted I was gonna be scraping the barrel for a while that things started to happen but it didn't happen overnight.
How and why did you gravitate toward collage? I've never been really good at drawing, I don't have the patience for it – I prefer to flick through ephemera and chop stuff up, lay it side by side then boom, you have an idea. I'm fast by nature and collage works well for me in that way.
Who is your inspiration? I loved the street art scene and artists from around 2007, this is what really got me thinking about making my own work – particularly Adam Neate's work, I loved the way he churned art out and left it on the streets for people to find. He's an amazing artist too. Other artists include Clifford Richards, Eduardo Paolozzi, Robert Rauschenberg etc – I mainly just like adverts and music photography from the 70's and 80's.
Why do you pick the sizes that you work in? I pick screen print sizes that people can easily frame up, I understand that most people like to get the work up on the wall as soon as they purchase it so I make it easy for them. I mostly work in A1 because it's more of a challenge for me to print and looks bold and amplified when finished but sometimes I also print in B2 (standard poster size) and occasionally the odd A0!
What would you really like with your art? All I want from my art is enough money to support my craft so I can continue to do what I love doing.
Why do you want to have your show at Studio 73? It's great to have a show at 73, it's a prime location and I get to do a show South London, it's rare that the people down south have a chance to see my work up close and personal.

19: Celia Martin
As an academic specialising in cultural studies, I am fascinated by music, film, art and politics in relation to issues of gender, class, nationhood or identity, which have inspired some of my works. I am also concerned with the passing of time and existential predicaments; for example, how we seek beauty as an anti-dote to decay, the different ways in which we all bear the load of life and the sometimes oppressive feeling of solitude. My faceless silhouettes and anonymous characters capture the universality of these concerns, sometimes with pathos, sometimes with humour.
I was born in Madrid, and as a young person growing up in the 70s/80s I became fascinated with the transformation of 'the city' during the transition to democracy after Franco's dictatorship. To reflect this process, I took up photography and focused on capturing urban scenes of libertarian Barcelona in the late 70s, where I lived for a year, and the wild atmosphere of 'La movida madrileña' of the 1980s Madrid (a counter-culture movement that emerged in the aftermath of Spanish transition). In 1985 I moved to London where I continued photographing the spectacle of the 'foreign city' with my new 'Polaroid'. Discovering the work of the Dada collage artist Hannah Hoch opened the door to a new form of expression that really suits my artistic style. Some of my works are imbued with the theoretical concepts that I study and teach.
Why do I want to exhibit Studio 73? My answer is a bit anecdotal and personal,I came to London following David Bowie's steps, my idol, and by chance I ended up living in Brixton for many years. Brixton market is iconic for me for so many reasons, where to start? and to have the opportunity to show my work in a gallery like Studio 73 in the centre of the market is pure bliss. Muchas gracias.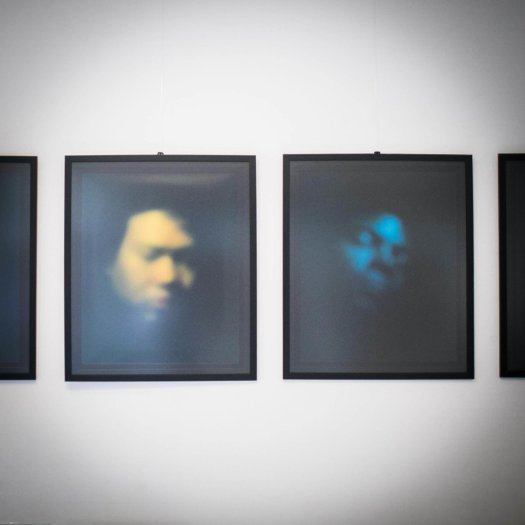 18: Roman Perona
Perona's Luminous Numinous explores the concept of the soul in portrait photography as the light radiation of a transpersonal energy. The individuals portrayed in Luminous Numinous don't belong to a common demographic group or social condition. They are random people from different backgrounds, age segments, nationalities, sexual orientations, beliefs, and political affiliations. This alluring artist is interested in bringing to light the divine nature of human beings.
The production of the images followed a creative process in the form of a liturgy. All participants came to Perona's London Fields studio individually at sunset wearing a blue garment as a symbol of eternity and divinity. For two hours, every sitter remained with their eyes closed under a single spotlight. The time between takes sometimes was over ten minutes to allow the person photographed to be progressively submerged into a meditative state. The colour-filtered light and the soundscape programmed by Perona were liturgical devices to allow the souls of the sitters to manifest themselves in front of the camera.
16: Eleonora Sher
Studio 73 presents a new solo exhibition by Eleonora Sher showcasing a selection of her most recent work.
Part of a larger ongoing research project around Landscape and Memory her practice explores the common link in human attachment to landscape and how we find identity in landscape and place. Exploring the parallels of the landscape, as the embodied mind and memory, and landscape as a physical place. How 'landscape is the work of the mind. Its scenery is built up as much from strata of memory as from layers of rock.' Landscapes are the nucleus of our intangible values that form our very existence, consisting of both individual and collective memories.
Eleanora has developed a unique technique which brings together digital photography and screen printing on yarn. The process starts with choosing the right subject matter – exploring how different compositions, light quality, and other elements affect the overall quality of the image. After this, test prints on paper are run before moving on to thread.
Eleonora Sher is a multidisciplinary artist who works predominantly with photographic and printing processes and large mixed media installations.
With a background in Psychology (BSc) and PGCE in Teaching (UCL) Eleonora returned to complete a masters in Art and Science at Central Saint Martins.
15: Kenny Mutombo
Kenny Mutombo is a 26-year-old artist from Paris, originally from Congo DRC she studied Fine-Art at LaSorbonne and came to London 4 years ago to study Digital Photography at Ravensbourne University London .
She uses photography and fashion to develop and discuss black beauty in attempt to break the mainstream views.
Artist Statement:
I decided to go in my country Congo for the first time at 24 for my last university project. I was concerned that every time you heard of DRC Congo it was about a killing or an image of death and misery. Even without being there I knew there was more to see. My work always had influences of Fashion and it's been the guiding thread of my work. My aim with this collection is to show another side of DRC Congo where people are friendly, happy and colourful – a world where Africans are able to do so much with so little.
The collection includes images of Kenny's family, the Kinshasa arts scene and a group called "The Panthers" part of La Sape movement very present in lots of African countries but mostly in Congo. The movement embodies the elegance in style and manners of colonial predecessor "Dandies".
14: John Ball
Based in Romford (London, U.K) and working primarily in the South East of the United Kingdom, contemporary artist John Ball creates unsettling images of a dystopian suburban landscape.
John is probably best known for his appearance on the Sky Arts 'Landscape Artist Of The Year' television show where he was fortunate enough to place as finalist. 'John Ball's work was a like a breath of fresh air on Sky Arts Landscape Artist of the Year in 2017 with its unique sense of mood and use of colour. The melancholic scenes that he constructs are poetic in themselves and full of story, to the point that they demand your attention and hold it very firmly indeed.' (Kathleen Soriano, curator)
13: Laura Obon
Laura Obon makes abstract collages out of paper. She is interested in the concept of seeing Art as a tool, described in the book written by Alined Botton and John Armstrong Art as Therapy.
Obon grew up in Tenerife and moved to the U.K in 1998. She completed in 2003 a BA in Fine Art at Sheffield Hallam University and moved to London in 2006 to undertake an MA in Fine Art at Central Saint Martins, University of the Arts. Obon is based in London where she works as an Art Teacher and develops her career as an artist.
12: Barrie J Davies
Barrie J Davies' artwork is a chaotic and playful visual explosion using found and invented imagery exploring humour, subversion, the absurd, escapism, Kitsch and consumer culture.
His paintings steal from pop culture, graffiti, psychedelia, street art, anarchically borrowing from Kitsch imagery with an urban art twist to give a contemporary feel. These paintings shout at you to from another world where things and situations have melted into each other all layered up in paint. The work comes influenced by the internet, 24 hour shopping, trashy magazines, kitsch obsessions, pop art, dayglo fashion, dubstep beats all fused together in a mishmash of fun colourful pop styles. My main aim is to create fun colourful sexy paintings to brighten up your day.
Barrie J Davies was born in Wales and is currently based in Brighton. Barrie has been a practicing artist for over seventeen years and has had up to eighteen solo exhibitions, as well as over hundred & fifty group exhibitions worldwide. His artwork is owned by well known comedian Noel Fielding and has also featured in the second series of Channel 4 Comedy "Raised by Wolves" written by Caitlin Moran. In paint he uses a provocative, colourful psychedelic and humourous approach to expose the human condition: notions of success, money, glamour, love, death, sex, gender & religion are picked at with dry comedic use of tragedy meshed with absurdity.
10: In Dialogue
Studio 73 presents "In Dialogue", a thematic group exhibition in celebration of International Women's Day curated by Ivana D'Accico.
"In Dialogue" aims to bring a more intimate and introspective vision of feminism, which considers our relationship with ourselves, as an essential element, while projecting our personalities into the world.
Four women artists show different aspects of a process oriented towards awareness of one's potential and self worth, in order to leave cultural constructs behind and pursue a mindful dialogue that doesn't confine solely on gender, but takes in consideration daily aspects of a person's life.
The exhibition runs from the 8th to 17th March.